We earlier studied that verbs are of two types; Parasmaipada and atmanepada. Parasmaipada words usually describe the activity done by others or result occurring to others, for instance, "he feels happy". However, we will learn about Parasmaipada in detail further. Here we are going to learn about the word atmanepada. Atmanepada, contrary to the former one is a self-serving one. Here the verb describes the activity done by itself or result occurring to the self, for instance, "I feel happy"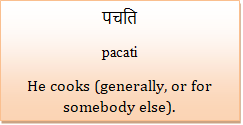 पचति
pacati
He cooks (generally, or for somebody else).
पचते
pacate
He cooks (for himself)
Atmanepada normally ends with "te" in the end
Some scholars have perhaps, underrated and questioned the use of atmanepada in the Sanskrit language, as most of the verbs are Parasmaipada. This is partially true, as we agree that Parasmaipada is extensively used but that does not deny the importance of atmanepada verbs.
Apart from their endings, both Parasmaipada, and atmanepada exhibit same behavior, both are classified into ten classes. Hence, the only factor that distinguishes them is the endings.
So let us take a look at each of the verb in present tense form.
Singular
Dual
Plural
Third person
लभते
labhate

लभन्ते
labhante

Second person
लभसे
labhase

First person
लभे
labhe

लभावहे
labhāvahe

लभामहे
labhāmahe

Now let us compare it to the Parasmaipada verb
गम्
Singular
Dual
Plural
Third person
गच्छति
gacchati

गच्छन्ति
gacchanti

Second person
गच्छसि
gacchasi

First person
गच्छामि
gacchāmi

गच्छावः
gacchāvaḥ

गच्छामः
gacchāmaḥ

Notice that only 1st person singular has changed, rest all are quite similar to each other.